Bike Locks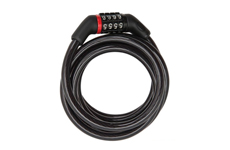 | Days | 1 | 2 | 3 | 4-7 |
| --- | --- | --- | --- | --- |
| Cost | $10.00 | $10.00 | $10.00 | $10.00 |
DELIVERY/PICKUP TO: Houses Condos Villas
Details: Pick-Up date can be no later than your rental check out date. No rental charges for Drop-Off/Pickup day. Orders made after 2PM EST. may not be delivered the next day.
No same-day deliveries
Don't let your bike, cart or watercraft get lost in the crowd.
Easy-to-use 4 dial cable lock made with braided steel and a vinyl coating for strength and flexibility. *Bike lock codes will be sent in a separate pre-arrival email.
delivery